Morphett Vale
Morphett Vale is a southern suburb of Adelaide, SA in the City of Onkaparinga. It is the largest suburb in the state

Happy Valley
Happy Valley is a metropolitan suburb of Adelaide, South Australia. It is located 20 km south of the Central Business District of Adelaide.

Seaford
Seaford, a coastal suburb to the near south of Port Noarlunga, the land was first settled in the farming boom of the 1840s and 1850s

SHEIDOW PARK
Sheidow Park is situated on coastal hills above the Adelaide Plains, 22kms from the city-centre and hosts around 7,000 people in just 3.5 sq/km.
And surrounding suburbs within a 10KM radius. We can service further reaching areas but additional travel time will be billable.
We are ready to come to you
In 1983 under the banner of T & N Electrical I first ventured into the security industry in the UK.
In 1988 on arrival to Australia I found the security industry at that time very quiet. For the next 11 years as an electrician, I installed ducted heating and cooling  air-conditioning and then onto satellite installations.
In 1999 I joined Chubb Security as a contractor where I gained even more experience, mostly in the commercial market.
We are now heavily involved in the domestic and light commercial industry, servicing, maintaining, upgrading and installing new systems, either local (unmonitored) or monitored.
We are not tied to any security systems instead we provide what we feel best suits our customers for each application.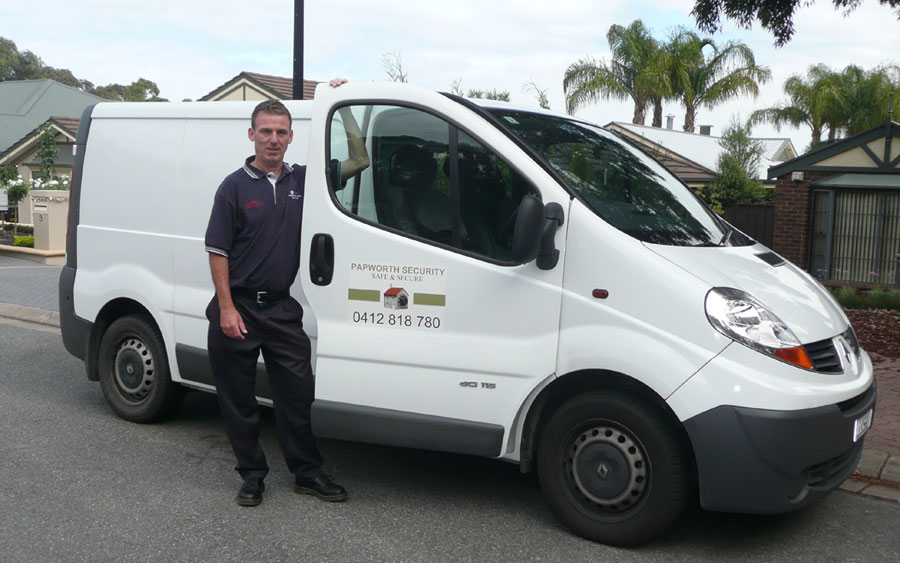 Why Papworth Security?
Locally owned and operated.
Fully insured and licensed.
Local police approved grade A1 monitoring at the best rates.
No fixed contracts.
No sales people, you only deal with a technician.
Alarms can be monitored or sent to your mobile phone or just local.
Do it yourself systems available.
The key questions are:
Are you getting approved and recognised equipment?
Is it being installed by a licensed electrician & security tech?
How long is my warranty?
Has the manufacturer got many years behind them producing trusted quality equipment?
Can I be sure of an installation designed by a business with many years experience?
Contact Papworth Security